signewhitson
This user hasn't shared any profile information
Home page: https://www.signewhitson.com
Posts by signewhitson
0
Late last month, I had the opportunity to offer a 2-hour training based on my new book, Parenting the Challenging Child, to a large group of families offering kinship care through Northampton County's Children, Youth & Families Division.  Kelly Brelsford, the Resource Home Evaluator who arranged the training event, generously shared this feedback:
Thank you, Kelly, for your kind words and for providing the opportunity to share LSCI Skills with your families!  It was an honor to spend the morning interacting with such a dedicated and loving group of caregivers, interested in doing whatever they can to support and nourish the kiddos in their care.
To learn more about the LSCI Skills for Parents & Caregivers training programs, click here!
If you are interested in purchasing the 2-hour curriculum to offer it within your organization, please email me at signewhitson@lsci.org
0
Looking forward to presenting Strategies to Keep Kids Safer Online at the ASCA Conference here in Boston this afternoon!  So grateful and giddy to see my 8 Keys to End Bullying books featured in the Exhibit Hall bookstore!
0
I have been so blessed and honored to travel to great schools and organizations and to work with professionals, parents, and kids on strategies for managing anger, anxiety, stress and conflict.  It would be impossible for me to pick a favorite place…but Camp Gold Arrow has got to be way, WAY up there.  I loved the people, the setting, and the belief in nurturing the well-being of children.  I love their commitment to educating staff on how to best support campers and their insight that #relationshipsmatter.  I'm grateful for the wonderful experience at GAC and happy to share their great programming with you!
Here's a post they shared about the training I offered to their staff this past weekend.
0
I got to go to camp this weekend!
Since February, I have been chatting with Audrey "Sunshine" Monke, owner of Gold Arrow Camp and author of the new (and phenomenal!) book, Happy Campers: 9 Summer Camp Secrets for Raising Kids Who Become Thriving Adults, about offering training to her camp staff prior to the summer sessions.  I had a feeling that being at camp would evoke nostalgia for the summers of my youth and knew from my conversations with 'Sunshine' that she and I are of similar minds when it comes to prioritizing social-emotional health in kiddos, but I never anticipated what a forward-thinking, child-centered, well-educated, relationship-building, warm, fun, all-around-awesome culture Gold Arrow Camp (GAC) would have.   I could have stayed all summer!
Here are some photos from my three days of pure air, pure dedication to kids, and pure joy, talking with the talented and diverse Gold Arrow Camp staff about anxiety in young people, understanding the differences between rude, mean and bullying behavior at camp, and how to use LSCI skills to relate, regulate, and respond effectively to challenging camper behavior.
0
Every parent I know has experienced the anguish of seeing their child on the receiving end of hurtful comments or social rejection. This post by writer Ilana Donna Aranzie captures this universal parenting dilemma of what to do (read: should I do anything?) and how to best support their child.
Aranzie also links to one of my posts from Psychology Today about how parents can build competence in their kids and disempower young people who bully, which was a super nice thing for her to do 🙂
Aranzie's post:
https://patch.com/new-york/rivertowns/how-deal-mean-kids-playground
0
Hi everyone,
Here's a great post by one of my favorite writer/educators with lots of easy, quick, EFFECTIVE, fun ways to help kids stay regulated and focused as we head into the final stretch of the year:
Click here:
Survival Kit for the Last Few Weeks of School
Or, cut and paste this link:
https://www.linkedin.com/pulse/survival-kit-last-few-weeks-school-lori-desautels/
0
If you'll be at the American School Counselor Association (ASCA) Conference in Boston this summer, I'll be presenting on Practical Strategies to Keep Kids Safer Online. I hope you'll join me–Monday, July 1!
0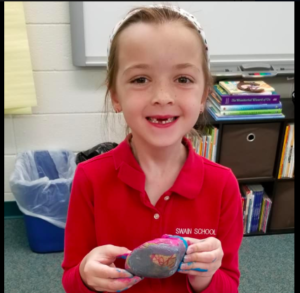 This month, Character Lessons in my first grade classes have been focused on cultivating kindness in our community. We read the book Each Kindness and learned how small, daily acts of kindness can have a large ripple effect–like a pebble tossed in a pond.
This week, we designed and painted our own kindness rocks with encouraging words. We are looking forward to placing them around school grounds next week and knowing that the person who finds it will feel our kindness and hopefully spread it forward to someone else…who will pass it on to someone else…
The most effective bullying prevention efforts in schools and communities are the ones that are cultivated over time, embedded into daily interactions, and focused on skills such as kindness, compassion, empathy, friendship-building, problem-solving, and assertive communication.  Learn more here: https://signewhitson.com/workshop-and-speaking/friendship-other-weapons-group-activities-to-help-young-girls-cope-with-bullying/
0
Thanks so much to the parents at the Swain School for joining me this morning for my Coffee with the Counselor Event  in which we talked about the impact of technology and heavy screen time on kids' brains, along with ways that parents can help kids manage/mitigate harmful effects of technology.
And thanks, in advance, to those who I will meet tonight at St. John Vianney, as I talk on the subject of Bullying Prevention, including how to help kids avoid the cruelty that some kids act out online and through social media.
As promised to both amazing groups of parents and caregivers, here are some links that I hope you may find helpful:
Stop Debating Whether Too Much Smartphone Time Can Hurt Teens, and Start Protecting Them
World health officials take a hard line on screen time for kids. Will busy parents comply?
The Truth About Research on Screentime
Heavy Screentime Rewires Young Brains for Better and Worse
Electronic Screen Syndrome: An Unrecognized Disorder
17 Apps & Websites Kids are Heading to After Facebook
15 Dangerous Apps Every Parent Should Know About
The 12 Apps that Every Parent of a Teen Should Know About
6 Teen "Hookup" Apps Parents Should Know About
Fortnite Game Review from Common Sense Media
What Parents Need to Know About Fortnite
Talking to Your 8-12 Year Old About Pornography
10 Rules to Help Kids Use Smartphones Wisely
Why Banning Social Media is Not the Best Answer for Kids
The Relationship Between Bullying & Suicide: What We Know & What it Means for Schools
0
Please join me tonight for my second FREE webinar based on my newest book, Parenting the Challenging Child: The 4-Step Way to Turn Problem Situations Into Learning Opportunities.
Date: April 24, 2019
Time: 8:00pm EST
Cost: FREE, but space is limited
Reserve your spot at https://zoom.us/webinar/register/WN_kI7LNlp0TDWd8UykjzfgIw
signewhitson's RSS Feed